CLADME's wide product range of interior partitions come in a series of finishes and can be adapted for a variety of work spaces. Our products are highly valued for creating ideal workspaces.
We have experience in managing big and small projects. Our expertise lies in providing a comprehensive range of interior partitions and office solutions to give your corporate space an edge. All of our products are manufactured in Italy which makes their safety and convenience unquestionable.
CLADME's complete range of partitions combines the durability and aesthetic appeal of laminate panel, aluminum and glass.
Our range of interior partitions is inclusive of the following productions:
CLASS
If you prefer the traditional look, Class's aluminum framed interior partitions are for you. Our product is well suited to accommodate a variety of design and aesthetic needs. In addition, the glass partitions enclose spaces without shutting them off completely, distribute natural light and manage privacy at the same time.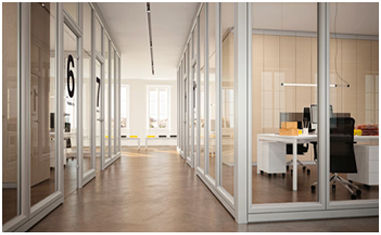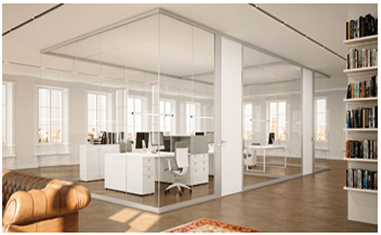 GHOST
When transparency is needed. These soundproof products are designed to retain visibility yet still keep spaces private. In addition, the frameless design makes spaces look more spacious and add a touch of aesthetic appeal to an area.
TREND
Available in both double and single glass, Links Trend is suitable for any type of aluminum frame. The partitions allow for intelligent use of space, are reconfigurable and can integrate equipment. All according to your preferences.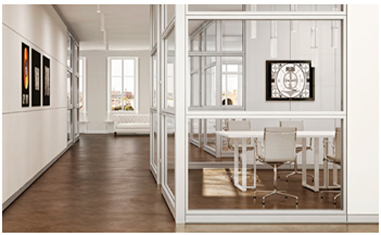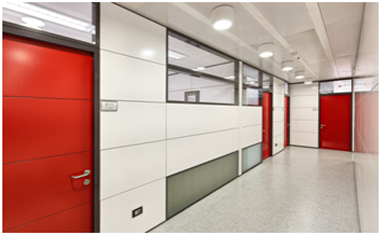 PLANIKA
CLADME's Planika line of interior partitions comes with a concealed fixing system. The product is designed to offers your workspaces a unique combination of aesthetics and functionality.
ABAKO
CLADME's provides Abako's line of steel partitions that come with concealed fixing systems that can be mechanically assembled through levers. The modular structures and chipboard panels guarantee high flexibility during assembly. In addition, slip joints allow fast assembly thereby reducing the time it takes to realize the design of the partitions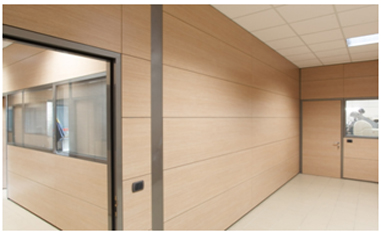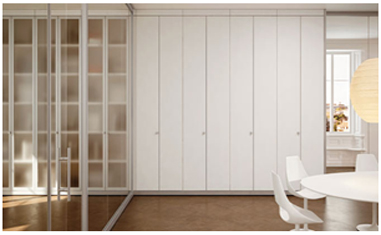 STORAGE SOLUTION
Storage solutions from CLADME are designed to allow for concealed spaces for storing items, preserving them and improving workflow in the process. The aesthetic design of the wooden, glass or aluminum solutions allow the storage units to blend into any area. An aluminum structure provides durability while the transparent glass allows natural light in. Our storage solutions are fully customizable. 
If all this was not enough, we also offer clients the flexibility they need to create their own partitions according to the shapes and materials of their choice. Let your creativity run wild! Contact us for more information on how you can get your customized and unique office solution.