CLADME's single skin profiles offer rapid coverage and completion of weatherproof structures. We offer a range of single skin roofing solutions for a variety of industries.
Our single skin solutions for roof systems make industrial projects last throughout their lifespan. In addition, sound proofing and high fire rating also make them highly valuable for a variety of industrial projects that involve food storage, hygienic systems or fire proof systems to name a few.
ClADME's single skin profiles are designed to provide drip-proof roofing and cladding solutions with durability to any development and allow coverage of small and large surfaces.
Benefits
CLADME's single skin profiles come with the following benefits:
– Fire resistance that is in compliance with EN-13501-1 European standard
– Bacteria resistance
– Better acoustic properties
– Additional anticorrosion protection
– High load bearing
– Surface is easy to walk on
Optional
– Anti-condensation coating in order to accommodate humid conditions
– Anti-noise coating that muffles noise
Uses
CLADME's single skin solutions for roof systems are manufactured to ensure the architectural integrity of modern developments. CLADME single skin solutions are used in a wide range of developments and buildings: civil, industrial, agricultural, warehouses andrenewal of old roofs.
Availability in Different Sheets
CLADME's single skins are available in the following materials:
– Natural aluminium
– Pre-painted aluminum
– Stainless steel
– Pre-painted steel
– Titan zinc
– Aluzinc
– Copper
Table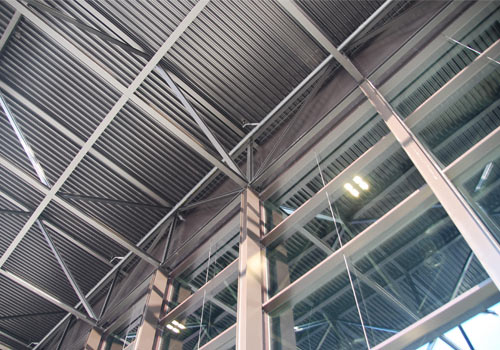 Special! Insulated Single Skin Profiles
We offer clients the benefit of using low cost single skin roofing solutions that are not only durable but are insulated as well. Attached along the corrugation of the singe skin, is a high-density expanded polyurethane that insulates the product against external elements.


Benefits
CLADME's single skin insulated profiles come with the following benefits:
– Condensation effect reduction
– Noise reduction
– Hail damages reduction
– Excellent walkability
– Thermal insulation
– Galvanic couples elimination
 CLADME's single skin profiles are available in different colors. Please contact us for more information.