CLADME's insulated roof sandwich panels forAcoustic systemsare valued for their sound absorbing properties and are manufactured usingthe best materials.
The inner sheets of the roofing sandwich panels are perforated and minimize sounds to as less as 32dB. Our roofing acoustic panels are suitable for both internal and external constructions. Additionally, the density of the mineral wool is kept at 100 kg/m3 to ensure exceptional sound absorption.
The acoustic panels are perfectly suited for normal dry internal environments. The mineral wool core, that it consists of, improves acoustic capabilities of roofs while keeping it fireproof.
Most countries have regulations for acoustic requirements that acknowledge external or internal noises such as traffic noise and noise levels between rooms in buildings.Developers also need to dampen sound in spaces that house operating machinery or in music halls. This is because noise levels in industrial facilities are harmful to hearing and music halls needto keep acoustic requirements consistent.
CLADME's insulated sandwich panels are specifically designed to solve these issues. Our roof panels for acoustic systems are available in various types of perforations in order to cater to a range of acoustic as well as aesthetic requirements. Not only do the perforated panels ensure sound absorption and insulation, they ensure elegant interiors of roofs and ceilings as well.
We also offer acoustic wall panels to go along with acoustic roof system.
Finishes
Our fireproof roof sandwich panels for acoustic systems come with the following finishes
Outer sheet
– Trapezoidal  

Inner sheet
– Perforated  

Coatings
Our fireproof roof sandwich panels for acoustic systems come with the following coatings:-
– Polyester
– PVDF
– PVC(F)- Food Safe
– Other
Table

CLADME's roof sandwich panels for acoustic systems are valued for their soundproofing properties. The panels are available in other lengths, thicknesses and accessories. Please contact us for more information.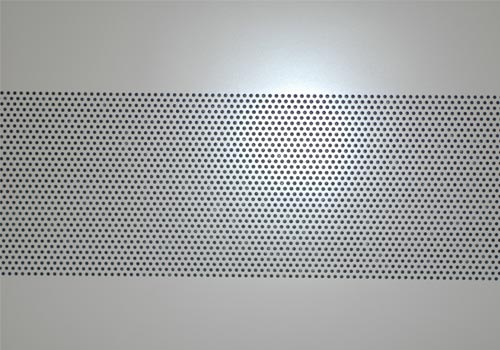 Perforated acoustic sandwich panels