CLADME's acoustic sandwich panels for wall systems have mineral wool core for excellent sound absorption and are manufactured using the best materials.
Our wall panels for acoustic systems are manufactured from the best materials in the market. Perforated inner sheets allow minimum sound reduction of 32dB. In order to facilitate optimum sound absorption and keep walls inflammable, the density of the mineral wool is kept at 100 kg/m3.
CLADME's acoustic wall panels are available in a variety of perforations to fulfill a wide range of structural needs. Their sound absorption characteristics are especially valued for constructions that need to adhere to strict acoustic and regulatory requirements. Such structures often include industrial and commercial warehouses where noise from machinery can be disrupting or office buildings that need to keep external noise such as that of traffic or internal noises out of certain work environments. Acoustic wall panels are ideal for the construction of the inner walls of such structures.
CLADME acknowledges such concerns by offering acoustic wall sandwich panels that do not only minimize sounds, but are perforated to meet the aesthetic needs of clients. In addition, they are designed for fast assemblies.
We also offer acoustic roof panels to go along with the acoustic wall system.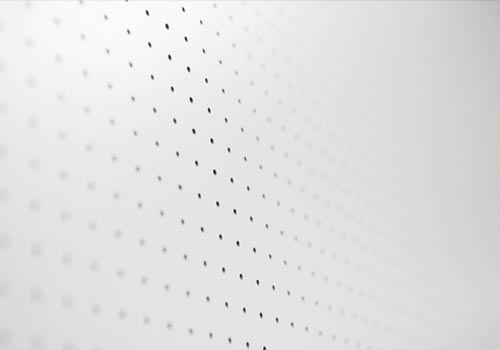 Perforated acoustic sandwich panels up to 32dB
Finishes
Our fireproof wall sandwich panels for acoustic systems come with the following finishes:
Outer sheet
– Flat

– Microprofile

– Lined

Inner sheet
– Perforated

Coatings
Our fireproof wall sandwich panels for acoustic systems come with the following finishes:
– Polyester
– PVDF
– PVC(F) Food safe
– other
Table

CLADME's wall sandwich panels for acoustic systems are valued for their soundproofing properties. The panels are available in other lengths, thicknesses and accessories. Please contact us for more information.