A quick assembly wall cladding system with greatest flexibility- The Façade offers designers maximum freedom of expression and cuts down their worksite costs substantially. It's simple, efficient and easy to install.
With the latest energy saving standards in practice, the ventilated walls technology now plays an important role in the construction business. At CLADME,we offer our clients a façade system for both insulation and ventilation at the same time.
Easywand is a metal insulated panel with high density PUR. It's simple, easy to install andcan be used for bothfacade renovationsand as a substitute for aluminium cassettes. Unlike aluminium cassettes, Easywand is smooth and insulated. It does not require any bending and manufacturing at the workshop and comes as a finished product, ready to be installed.
Benefits
CLADME's Easywand façade system comes with the following benefits
– Condensation reduction
– Panel completely smooth
– Hidden fixing
– Easy and fast installation
– Light (5kg/m)
– Panel edging – side panels closed
Availability in Different Sheets
CLADME's Easywand facade systemis available in the following materials:
– Pre-painted Steel
– Galvanized Steel
– Pre-painted Aluminium
– Stainless Steel
– Cor-ten Steel
Paint Finishes
CLADME'S Easywand is available in 12 different colors with smooth finishes.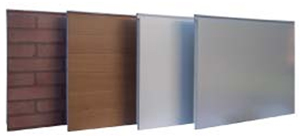 Table

Note – Upon request and for particular orders, different dimensions are available