CLADME prides itself as the exclusive distributor of PAROC wall sandwich panelsfor the Asian and MENA markets. Our fire rated systems offer unique fire tightness non-comparable on the market.
CLADMEfire rated panels from PAROC are made from quality steel faced sandwich panels. These panels are specifically designed to meetdemands of modern buildings: attractive design, excellent fire safety, long spans, short construction time, energy efficiency and cost effectiveness.
Mineral wool (MW) sandwich panels from CLADME are highly valued for their thermal efficiency especially when it comes to development such as industrial, public, commercial buildings that require fireproof materials for facades, ceilings, and partitions. The thermal protection we offer is on a much higher level as compared to traditional materials which results in significant cost savings for customers in case of accidental fires.
Water and air tightness are key factors when it comes to high rise developments. Fire proof wall panels from CLADME have cores that do not experience any capillary absorption thereby preventing air and water from being absorbed. Additional features such as long spanning façade panels do not require additional steel constructions for reinforcement.
A unique feature is that the PAROC sandwich panels from CLADME are delivered without sealed joints. The panel joint is sufficiently tight.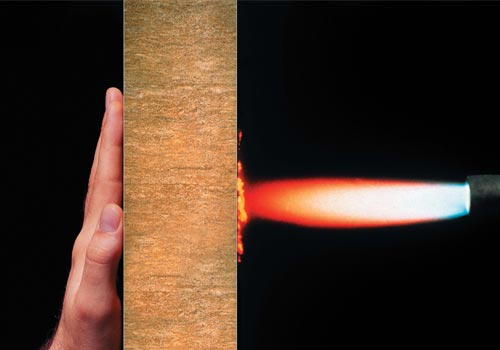 We can provide up to 4 hrs of fire rated sandwich Panels
Endless Possibilities
CLADME's sandwich panels for fire rated systems are also valued for the development of facilities that needspecialized requirements such as extra fire safety, acoustics and hygiene along with aesthetic appeal in mind. This makes it possible for us to accommodate our panels, with appropriate detailing, in every part of your construction project. This is also why our panel models are available in a range of colors which provide developers a variety of design options for facades. Other properties such as an easy print material make it possible for corporations to showcase their corporate image on their chosen facades. Like all our sandwich panels, CLADME sandwich panel solutions include everything you need to complete a structure: panels, fixings, profiles, flashings, screws, lifting equipment and sealants.
We also offer fire rated wall panels to go along with the fire rated roof systems.
Finishes
Our fireproof roof sandwich panels for fire rated systems come with the following external finishes:
Inner and Outer sheet
– Flat  

– Microprofile  

– Lined  

– Dot  

Coatings
Our fireproof roof sandwich panels for fire rated systemscome with the following coating options:
– Polyester
– PVDF
– PVC(F) Food safe
– other
Table

CLADME's fire rated sandwich panels for wall systems are available in other lengths, thicknesses and accessories for air tight and fireproof constructions. Please contact us for more information.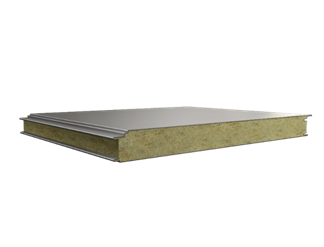 Sandwich panels also available with hidden joints.