CLADME's wall sandwich panels for hygienic systems are designed and manufactured according to strict regulatory standards with regards to hygiene and fire protection.
We know that in industries such as food, electrical and pharmaceutical, demands on hygienic conditions are high.In order to meet these requirements, special care needs to be takenwhen it comes to the material properties, joints between structures, detail solutions as well as cleaning and maintenance.
The tightness of our panel structures, sealants and special flashings prevent dust and debris from accessing spaces that need to be sanitary at all times. CLADME's sandwich panels with mineral woolcore ensure that structures remain air and water tight as well as fire-safe. All this along with the panels'entirely smooth surfaces,as well as the absence of dirt traps, make wall and ceiling structuresvery easy to clean. This makes CLADME'spanels suitable for the construction of food processing facilities, clean rooms, distribution depots, chilled rooms, storage areas, and medical spaces, amongst others.
We also offer hygienic roof panels to go along with the hygienic wall system.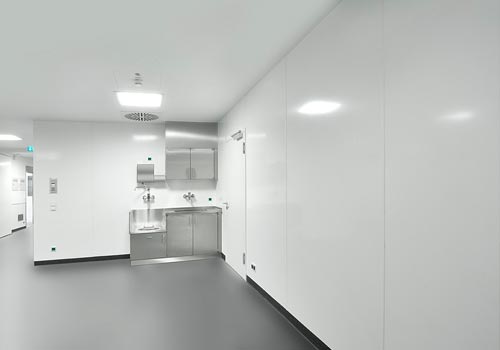 We can offer a complete clean room/ hygienic room system
Finishes
Our roof sandwich panels for cold fire rated system comes with the following external finishes:
Outer sheet  

– Flat 

Inner sheet  

– Flat 

Coatings
Our fireproof wall sandwich panels for hygienic systems come with the following coatings:
– Polyester
– PVDF
– PVC(F) Foodsafe
– Other 
Table


CLADME's wall sandwich panels for hygienic systems also come with a variety of accessories and lengths to ensure constructions that are not only fireproof but airtight as well. Please contact us for more information.