CLADME's single skin profiles offer rapid coverage and completion of weatherproof structures. We offer a range of single skin wall solutions for a variety of industries.
Corrugated skin profiles for walls are suitable for both industrial and agricultural buildings. The homogenous structure of our products promotes longevity of developments while characteristics such as fire resistance make CLADME's single skin valuable for a range of industries. We offer single skins for wall systems in both trapezoidal and sinusoidal shapes.
Sinusoidal Single Skin Wall Coverage Solutions
Single skins that are sinusoidal shaped provide our clients with a variety of aesthetic choices during development. The curves add a unique look to any façade. In addition, they can easily be adapted for vertical, diagonal and horizontal installations which provides clients with a variety of design options or both external and internal facades.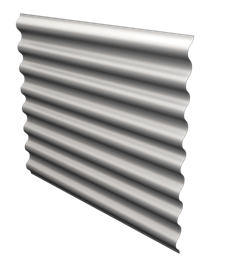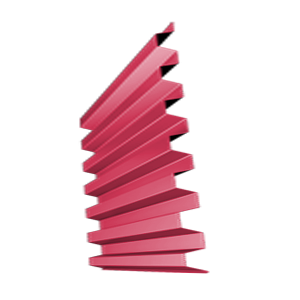 Trapezoidal Single Skin Wall Coverage Solutions
Just like sinusoidal profiles, trapezoidal panels are also widely used in architecture. The unique angles, shape and corrugated Trapezoidal panels from CLADME offer clients a chance to truly make their developments stand out. The panels can be installed laterally or horizontally on flat surfaces. They can cover curved or round corners and even arched roofs while enhancing a structure's aesthetic appeal.
Uses
CLADME's single skin solutions for wall systems are manufactured to ensure the architectural integrity of modern developments. CLADME single skin solutions are used in a wide range of developments and buildings: civil, industrial, agricultural, warehouses and even for therenewalof old walls.
Availability in Different Sheets
CLADME's single skins are available in the following materials:
– Pre-paintedaluminum
– Pre-painted steel
– Titan zinc
– Copper
– Stainless steel
Table

CLADME's single skin profiles are available in different colors. Please contact us for more information.